As part of our ongoing efforts to continually improve our working practice we are delighted to announce that Armstrongs Aggregates LTD is now FORS accredited.
The Fleet Operator Recognition Scheme (FORS) is a voluntary accreditation scheme for fleet operators which aims to raise the level of quality within fleet operations.
Achieving our FORS accreditation demonstrates our long term commitment to our customers, staff and the industry; as an industry pace setter and a leader in fleet transport best practice.
Instilling a mindset of continual improvement, joining an elite group of operators that boast exemplary levels of safety, efficiency and environmental awareness.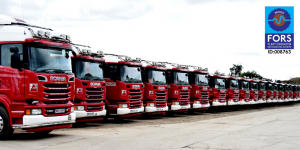 Our high standard of reliability and service is driven by an excellent team of fully qualified drivers, along with a strong safety record. Our new tracking system will facilitate the constant monitoring of driving styles to enhance this further.
Our vehicles and trailers are serviced in line with regulations by our own workshops, consisting of a versatile and experienced team of fitters. Notwithstanding our work we are also very conscious of cleanliness and appearance and our drivers are responsible for their own vehicles.
The Armstrong group strongly believe in owning vehicles, as it caters for maximum flexibility and allows us to continuously strive to improve our fleet and services.
For more information on our fleet, or to keep up to date with our company news you can follow our Facebook, Twitter, Instagram and LinkedIn pages.
Read More