On November 2nd 2019 we were honoured to be present at the Rivington Terraced Gardens where their new sundial, created by stonemasons from Armstrongs Stone, was unveiled at a small ceremony on the Orchestra Lawn.
Rivington Terraced Gardens is a unique and wonderful place and is in the care of Rivington Heritage trust, a registered charity. There is nowhere else like it in the world with its magical pathways, stairways and iconic structures. The gardens are well-known and well-loved throughout the region and are in an exciting period of change following the £4.2 million conservation and repair project, part funded by the National Lottery heritage Fund.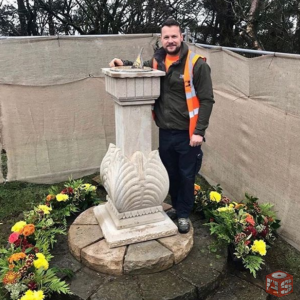 The Bolton News described the Gardens below.
"When Rivington Terraced Gardens were originally created for Lord Leverhulme in the early 1900s, a sundial had stood on the corner of the Orchestra Lawn.
Following Lord Leverhulme's death in 1925, the lavishly beautiful gardens fell into decline and the sundial disappeared.
All that remained of the sundial was the circular stone plinth that it once sat upon.
As part of the ongoing work being undertaken to preserve and protect the Gardens, a new sundial based on the original design has been unveiled. The Sundial is dedicated to the 600 plus volunteers who have spent countless hours helping restore the gardens to former glory.
Groundwork Heritage Manager Andrew Suter told the Bolton News: "Our volunteers are an amazingly dedicated group of people and it's thanks to their hard work that we've been able to fund this piece of work. The sundial doesn't just restore an important feature from the Gardens' history but will also be a lasting testament to the role of local volunteers in helping to safeguard their future."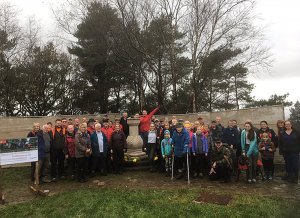 Armstrongs Stone are specialists in renovation, restoration and new builds, you   can find more of our work here. You can also contact us on enquiries@armstrongsstone.com or on 01204 668 021.
You can also keep up to date with all news and updates across the Armstrongs Group on our Facebook, Twitter, Instagram and LinkedIn pages.
Read More